South African Mercantile Law Journal
The South African Mercantile Law Journal is a specialised journal published by Juta Law and the Faculty of Law, University of South Africa. It is devoted to publishing material in the field of mercantile and business law. This journal is not intended as a businessman's journal. It is aimed at practitioners in these areas of law.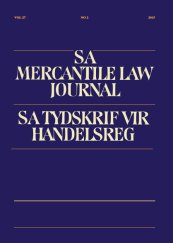 Managing Editor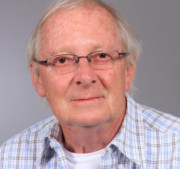 Professor Neville Botha
Qualifications: (B Iuris LLB (Pret), LLD (Unisa)).
Neville was previously a Professor of International Law in the Department of Public, Constitutional and International Law at the University of South Africa, and is currently Professor Emeritus and Research Associate in the Department. He has published widely on international law, particularly in the field of extradition and is editor of the South African Yearbook of International Law (SAYIL) and the Comparative and International Law Journal for Southern Africa (CILSA). Professor Botha currently represents South Africa at the Permanent Court of Arbitration in The Hague.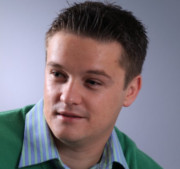 Professor PN Stoop
Bcom LLB LLM (UP) LLD (Unisa)
Philip Stoop, an associate professor of law at the University of South Africa (Unisa) completed his BCom, LLB and LLM degrees, all cum laude, at the University of Pretoria and his LLD at the Unisa. During his LLB studies he received several awards from the University of Pretoria. In 2006 he received the University of Pretoria's Grotius medal for the best final year law student. He completed his LLM degree in 2008, the same year in which he started working as a lecturer at Unisa. His area of speciality is consumer protection law and he has published several articles in accredited journals in this field. He has also presented papers at various local and international conferences. In 2012 he received the Unisa's Principal's prize for excellence in research. He worked as Editorial Assistant for the De Jure in 2007, and as Assistant Editor for the Annual Survey of South African Law from 2008 to 2014. He is the managing editor of the South African Mercantile Law Journal.
Editorial Assistants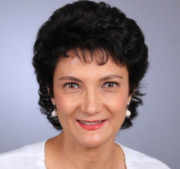 Mrs Marianne Lombard
BLC LLB (UP) LLM (Unisa)
Marianne Lombard is an admitted attorney and conveyancer and has practised as such in Durban and Pretoria, specialising in conveyancing. She joined the University of South Africa in 2012 as a lecturer in the Department of Mercantile Law.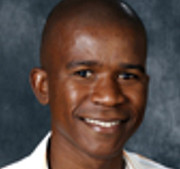 MR B MASUKU
LLB LLM (Unisa)
Matome Boaz Masuku is a senior lecturer in the Mercantile Law Department, College of Law, University of South Africa (Unisa). His area of interest is in competition law and intellectual property law with a strong focus on multi-inter-trans-cross disciplinary approach. He is currently enrolled for a doctoral degree with Unisa. His proposed title of his thesis is "An Exploratory Analysis on the Limits of Competition Law in a Public Service Market". He currently serves as a member of a number of committees at Unisa. He is also a Deputy Chairperson of the Transport Appeal Tribunal.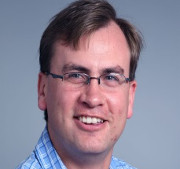 Mr WJC Swart
BCom LLB LLM (UP)
Christiaan Swart is a senior lecturer at the University of South Africa. He is also an attorney of the High Court of South Africa. He is teaching company law and has published and presented papers on various aspects of corporate law.
Submission Information
All submissions must be in the journal's house style.
All submissions should be e-mailed to Mrs M Lombard at lombam1@unisa.ac.za
Mrs Lombard's telephone number for any queries regarding submissions: 012 429 2240
ARMED CONFLICT AND THE ENVIRONMENT: PERSPECTIVES FROM AFRICAN UNION LAW
C KENTARO* W SCHOLTZ**
Abstract
During armed conflict the environment suffers both as a result of deliberate damage as a strategy of war, as well as through collateral harm. The intersection between the jus in bello (international humanitarian law) ('IHL') and international environmental law ('IEL'), with the aim of addressing environmental harm as a result of armed conflict, is a relatively recent development. It was traditionally believed that the laws of war and peacetime laws were mutually exclusive. For decades the African continent has suffered the effects of armed conflict disproportionately, which implies that so too has the natural environment in Africa suffered these effects disproportionately. The aim of this article is to make a two-fold contribution. First, it provides a summation of the protection afforded to the environment during armed conflict by IHL and IEL in order to illuminate the shortcomings of the latter. Secondly, it undertakes a comprehensive analysis of the African regional legal framework of environmental protection in relation to armed conflict. This will determine how regional law in Africa may serve to complement the international legal regime in order to strengthen the protection of the environment during armed conflict on the continent. Furthermore, this analysis may also provide informative lessons for the current international law discourse on environmental protection during armed conflict. We conclude the article with brief remarks and recommendations.
Key words: Environmental protection, armed conflict, African regional environmental protection

THE USE OF CITIZENSHIP AND NATIONALITY AS INSTRUMENTS OF CONTROL
GM FERREIRA* MP FERREIRA-SNYMAN**
Abstract
During the past few years the international spotlight has fallen sharply on the curtailment, withdrawal and total denial of citizenship and nationality by states. The renewed interest shown in these issues is, amongst others, a result of China's policy to curb its population growth and prevent the movement of its population from rural to urban areas, as well as the United Kingdom's efforts to protect its population against the scourges of international terrorism based on religious grounds. To these examples the refusal of Burma (Myanmar) to recognise certain minority religious groups as citizens of the state, may be added. In all these instances the states in question acted in a way that brought them into conflict with international human rights law. It is the aim of this contribution to, on the one hand, establish to what extent states (in this instance particularly China, the United Kingdom and Burma) use the curtailment, withdrawal or denial of citizenship and nationality as instruments to exercise control over their populations in order to obtain certain objectives, and, on the other hand, to establish what the influence of these actions would be on the phenomenon of statelessness. It is concluded that an unjustifiable limitation of the rights of citizens, or in the worst of cases a total denial, is not compatible with international human rights law and must be seen as a serious setback for the establishment of an international human rights culture. In order to create legal certainty on both the national and international levels, it is submitted that the vague concepts of citizenship and statelessness should be redefined and that a core minimum of rights, implied by citizenship and nationality, should be determined internationally.
Key words: Citizenship, nationality, state authority, population control, China, United Kingdom, Burma

THE HUMAN SECURITY DIMENSIONS OF EBOLA AND THE ROLE OF THE UN SECURITY COUNCIL IN FIGHTING HEALTH PANDEMICS: SOME REFLECTIONS ON RESOLUTION 2177/2014 I
R PAVONE*
Abstract
During 2014–2015 an outbreak of the Ebola Virus Disease (EVD) ravaged the West Africa region, which led to the World Health Organisation ('WHO') formally declaring the outbreak a 'Public Health Emergency of International Concern'. The United Nations Security Council (UNSC), in turn, adopted resolution 2177, which for the first time in history, considered a health epidemic 'a threat to international peace and security' under Chapter VII of the UN Charter. In particular, the UNSC maintained that the situation would be susceptible to provoking 'further instances of civil unrest, social tensions and deterioration of the political and security climate' in West Africa. While it is too early to establish the concrete impact of resolution 2177 on the future UNSC practice with regard to infectious diseases, this resolution is evidence that health issues have become increasingly 'securitised' within the UN system. It may also suggest that the UNSC is continuing to expand the notion of a threat to international peace and security under international law 'to align more closely with a human security framework'. This contribution engages with both the positive and negative aspects to the UNSC's classification of Ebola as a threat to peace and security. In particular, the implications of the framing of health pandemics as international security issues in terms of human rights protection through the risk of overriding the civil and political rights of those affected by an infectious disease, is discussed. This raises the question whether EVD is a matter beyond the powers of the UNSC or more properly a matter for other organs of the UN system. The validity of this theory is analysed in depth, whereafter I offer reasons why the process of securitisation of climate change failed and was highly criticised – in the main by developing countries – while Ebola did not elicit a similar response.
Key words: Ebola, West Africa, UN Security Council, resolution 2177, health epidemics, health pandemics

INTERNATIONAL RESPONSIBILITY OF ARMED OPPOSITION GROUPS
ANTAL BERKES*
Abstract
Armed opposition groups ('AOGs'), as non-state parties to an armed conflict, are partial subjects of international law in that they have rights and obligations under international humanitarian law (IHL), international criminal law, and arguably under international human rights law (IHRL). Nevertheless, this notwithstanding, positive international law has not codified rules on the international responsibility of armed opposition groups as such, and there are no judicial mechanisms reviewing their conduct as collective entities. I argue here that despite the absence of written rules and judicial procedures engaging the responsibility of AOGs, there is a wide- ranging practice among states and international organisations to recognise and develop the concept of responsibility for armed opposition groups as such. However, it must be stressed that the detailed rules governing the consequences of such responsibility are not clear, and the analysed practice consists of non-judicial mechanisms. In the first part of this discussion, I argue that international law recognises the concept of the responsibility of AOGs notwithstanding its un-codified status. In the second part, I review selected accountability mechanisms which condemn the internationally unlawful conduct of AOGs. These institutions, which could be termed 'mechanisms for the accountability of AOGs' – reading accountability in the wider sense of responsibility – are likely to hold armed opposition groups accountable for their unlawful acts, albeit outside of the framework of judicial procedures binding AOGs. I here investigate effective, existing institutions involved in the responsibility of AOGs in positive international law, with a special regard to the current armed conflicts on the African continent involving AOGs such as Boko Haram, M23, Forces Démocratiques Alliées/Armée Nationale de Liberation de l'Ouganda, le Mouvement pour l'Unification et le Jihad en Afrique de l'Ouest ('MUJAO') or Ansar Eddine, to mention only the principal players.
Key words: Armed opposition groups, non-state actors, responsibility, accountability

TACKLING THE BOKO HARAM INSURGENCY: CAUSES, CHALLENGES AND RESPONSES
MICHAEL ADDANEY*
Abstract
Over the past five years, a wide ambit of narratives has been proffered on the Boko Haram insurgence in northern Nigeria, particularly its causes and possible solutions. Most of these narratives conflict and thus compete with one another. This is effectively making it difficult for the government of Nigeria and the international community to devise a clearcut approach to deal with the crisis. It has also played an immense role in worsening the relationship between the predominantly Muslim North and the mainly Christian South. This paper critically tests a number of existing narratives that seek both to explain the origins of Boko Haram and propose solutions. It does this through a meta-analysis and critical content analysis of literature as well as information from both local and international media sources. It is organised under two commanding schools of thought: (i) the human development theory and (ii) the Islamic- state theory. Without doubt, the Boko Haram phenomenon is extremely complex. Yet these two theoretical explanations of the insurgence have a significant influence on public thinking about the crisis. While the Islamicstate theory seems to be mainly advanced by the locals who are mostly civilians (Nigerians), the West tends to think that human development issues of poverty are more important. It was found that there was no specific authoritative way of thinking about the crisis in terms of its causes. The study is designed to play an instrumental role in finding a sustainable solution for the crisis in a modest way. In terms of solutions, however, a military intervention through force is suitable should dialogue fail by March 2015.
Key Words: Boko Haram, insurgency, security, conflict, Jihad, Nigeria

ASSESSING THE LEGALITY OF CAMEROON'S RESPONSES TO BOKO HARAM ATTACKS ON CAMEROONIAN TERRITORY
AVITUS AGBOR*
Abstract
States, as the principal actors of international law, owe duties to both other states and their peoples. Among these duties are the protection of its national territory, its peoples, and their national interests. These duties are sacrosanct and constitute the primary responsibility of any responsible government. In cases of armed attack launched against a sovereign state, international law clearly grants the state under attack the right to defend itself. The use of force in the exercise of the right of self-defence is governed by article 51 of the United Nations (UN) Charter, the substantive content of which has triggered considerable debate. I argue that the recent armed attacks launched by the Nigerianbased terrorist network, Boko Haram, on Cameroonian soil qualify as both aggression and mass atrocities. This compels the state to fulfil its primary mandate to protect its people. In consequence, Cameroon's responses have been varied including the adoption of counter-terrorism legislation; diplomatic engagements with neighbouring states such as Chad, Benin and Niger and the resulting establishment of a Regional Multinational Joint Task Force; and a military counter-offensive against Boko Haram to contain and repel the Nigerian-based terrorist group. Given the diversity of these responses, one may ask whether they are justified in international law? This paper seeks to answer this question by assessing the legality of each of Cameroon's responses in the light of international law and counter-terrorism measures.
Key Words: Boko Haram, Cameroon, security, conflict, Nigeria

RESPONDING TO BOKO HARAM: WHY THE AFRICAN UNION MUST LEAD THE FIGHT AGAINST THE INSURGENCY
SWIKANI NCUBE*
Abstract
This contribution argues that the decision to authorise the establishment of the Multinational Joint Task force (MNJTF) could not have come at a better time. Furthermore, it argues that the mandate of the MNJTF is comprehensive enough to bring stability to the Lake Chad region and is evidence of the African Union's (AU) commitment to fighting terrorism and extremism on the continent. The first part of the paper gives a contextual background to the 'Boko Haram' insurgency while the second part outlines the Nigerian government and the international community's response to the insurgency. The third section discusses the mandate of the MNJTF and further outlines reasons why the establishment of the Force is a timely intervention by the AU. This is followed by concluding remarks. The paper does not attempt to define terrorism as there are numerous definitions of the phenomenon; however, it proceeds from the premise that the activities of Boko Haram constitute terrorism.
Key Words: African Union, Boko Haram, security, conflict, Nigeria